Happy Sunday!!! I hope you had a

great weekend!!
With the weekend coming to a close it means another edition of Social Sunday!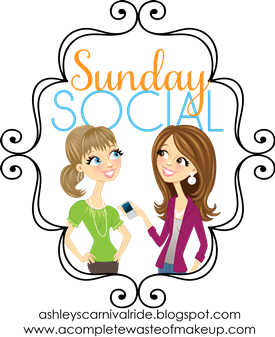 1. What is one movie you are terrified to watch?
There really aren't any movies that I am terrified to watch. I love scary movies!
2. What is one TV show you have always wanted to get into but haven't yet? The Wire. I know its been off for a while but I've heard great things.
The Walking Dead. We were late to the game finding out about this show and have yet to watch it. We need to start from the beginning

in order for us to watch it.
3. What is one daring activity on your bucket list?
I'm a wuss. I don't

have anything daring or risky that I would like to do on my bucket list.
4. Would you ever travel alone?
If I had to yes, but I wouldn't want too. If I'm having to travel somewhere I want to experience it with my

hubbs.
5. What activities do you like to do alone?
Anything! It's not often that I have a chance at some alone time o

ther then grocery shopping.