It's the end of the weekend and that means it's Sunday Social time!
I hope everyone had a wonderful weekend and eats lots of yummy game day food to

night.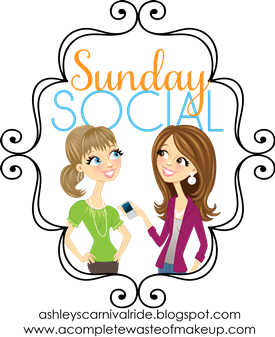 This weeks questions are all about twos.
1.If you were stuck on an island w

hat are the two material items you would want to have.
My toothbrush and one of my squishy pillows. I can't sleep without my squishy pillows.
2. What are two TV shows you'

d watch over and over?
New Girl and Grey's Anatomy.
3. I
f your house was on fire what two things aside from family,pets,etc. would you grab?
My laptop and the safe. The safe has all of our important documents and

pictures.
4. What are your two most favo
rite articles of clothing?
I

t would have to be my sweat pants and hoodies.
5. What two movies that you saw in the past year would you

recommend

to

us?
Oh geez, this one is hard. I don't think there is a movie that I would recommend. There isn't one that stands out in my mind

.
6. What are your two biggest guilty pleasures?
Starbu

cks and new nail polish.