The weekend is almost over and that mea

ns it's time for another Social Sunday.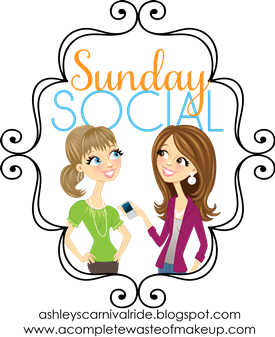 This weeks qu

estions are all about Valentine's Day

.
1. What is the best Valentine's Day you ever had? It would have to be my first Valentine's Day that I spent with the hubbs. We had only been dating for a couple of months at the time. He showed up to my work with beautiful flowers and that night we drove 2 hours to my favorite Korean restaurant. It's a mom and pop, hole in the wall kind of place but you get the real deal from them. Oh boy, do they feed you.
2. What is the worst Valentine's Day you ever had? It would have to be 8th grade when a boy made a really mean comment to me. It ruined my whole day. Boys suck.
3. What did you do this Valen
tine's this year?
I was one of the class moms for nut-nut

's

class so I helped set that up. Surprised the hubbs at work during his lunch break with some candy. The hubbs was at school that evening so nut-nut helped me make

heart shaped pizza for dinner.
4. What is your best Valentine's idea if you are single?
Have fun and don't stress over V.day. It's just another day. An over

commercialized

one at that.
5
.What is your favorite Valentine's candy?
Dove chocolate hearts. It has to

be the heart shaped ones.
6.
Favorite Valentines memory for you're childhood?
It isn't

necessarily

my favorite memory but it is one that stands out in my mind the most. I think my brother was about 2 or 3 at the time. My mom gave me one of those heart shaped boxes with the assortment of truffles on V

day morning

. I placed it on the very top shelf of my bookcase before I left for school. I couldn't wait to get home and eat my candy. I rushed into my room to get my candy to discover it was missing. I look in my brothers room where he is taking a nap and he has my candy. It is caked all over the bottom of his shoe, all over his face and blanket. The little booger climbed my bookcase and ate my candy after he finished his.

I was so mad!